One of  a kind and Limited Edition 'Eco-Friendly' Jewelry.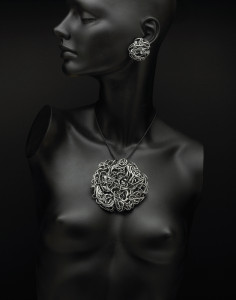 My Jewelry follows the "up-cycling" movement which aims to re-evaluate the worth of waste by reinventing and reclaiming discarded materials in new and unexpected ways giving it a 'Second Life' by transforming it's beauty into 'Something New'.
All of My Jewelry and accessories are entirely hand-made by 'manipulating' used and disposed materials. The reused materials give the jewelry and accessories a strong identity with unique characteristics effectively making each piece a distinct and unique work of art. My process and my inspiration are material-focused. Using non organic discarded materials and reworking them to create unexpectedly organic shapes and patterns. I aim to create Jewelry and Accessories that force you to look at the ordinary in a new in an extraordinary way. I strive to make jewelry that is distinctive and surprising…..jewelry that is contemporary and makes a creative and thoughtful statement.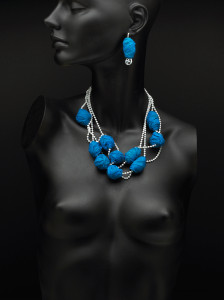 The work came to life through a common deep rooted passion to working towards sustainable development. In our over-consuming society, already struggling to solve the problems of tomorrow, eco-design offers a new path towards more environmentally friendly products, by 'up-cycling' or 'repurposing' discarded materials into useful and viable Works of Art.
"For me the material cost or nature of jewelry is not nearly as important as the presence and feeling of an object that has been transformed from one material, having one purpose into something entirely different."
The way of the Creative works through change and transformation, so that each thing receives its true nature and destiny and comes into permanent accord with the Great Harmony: this is what furthers and what perseveres.  -Alexander Pope 
All images © SanchezArias.com
https://sonyasanchezarias.com/wp-content/uploads/2012/11/STR_N_SLV-BLK_MM_0004.jpg
1000
787
Sonya
https://sonyasanchezarias.com/wp-content/uploads/2018/08/SSA_Initials_Charcoal_Logo-MM_Transparent340.png
Sonya
2012-11-13 22:30:12
2016-04-04 22:42:36
Something New!